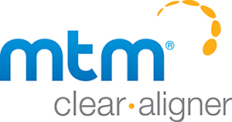 Dr. Michael Handler and Dr. Barry Hanser offer an affordable alternative to costly braces and retainers: the MTM® Clear Aligner, a great way to correct minor misalignments such as gaps or crooked teeth. Your nearly invisible, removable aligner is custom made to fit your mouth and gradually move your teeth into the correct position.
How do MTM® Clear Aligners work?
Clear aligners are an effective alternative to traditional braces, and involve a system of clear, removable trays used to guide teeth into proper position. Each aligner is custom-made from a strong plastic that fits over your teeth and uses gradual force to control tooth movement.
Aligners are worn for at least 20 hours each day, with a new aligner placed every 4-6 weeks. The length of your treatment depends on the severity of your case.
Clear aligners are a great alternative for patients who want a straighter smile but do not want to wear metal braces, or for patients who have had treatment in the past and want to make minor corrections to their smile.
Advantages to MTM®Clear•Aligner Treatment
Clear aligners are easier to keep clean, making it easier to maintain the health of your teeth and gums.
Clear aligners are comfortable and less likely to irritate your gums and cheeks.
Clear aligners prevent wear on the teeth from tooth grinding.
Clear aligners are removable, so it's easier for you to brush and floss after meals.
MTM® Clear•Aligner is the easy, affordable and virtually undetectable way to align your smile without the inconveniences of traditional braces. Developed by DENTSPLY International, a global leader in dental innovation and product design, MTM® Clear•Aligner has been successfully treating minor misalignments commonly seen in adult patients since 1998.
Whether you're seeking a simple solution to minor tooth alignment imperfections, such as crouping or gaps, or to correct orthodontic relapse, MTM® Clear•Aligner can help you reach your treatment goals.
Each clear, removable aligner is custom fitted and designed to progressively advance your teeth into their ideal position with minimal interruptions to your daily life.
Discover why MTM® Clear•Aligner is a great way to achieve to achieve a more beautiful smile.
Contact Dr. Michael Handler & Dr. Barry Hanser: Family & Cosmetic Dentistry to found out if an aligner would work for you.
Q: What does the "MTM" in MTM® Clear•Aligner mean?
A: "MTM" stands for "Minor Tooth Movement" – a process for aligning upper and/or lower teeth requiring minimal movement. MTM® Clear•Aligner uses a series of clear, comfortable, removable plastic aligners to achieve rapid results. It's the virtually undetectable way to improve your smile.
Q: What is the difference between invisible braces, clear braces, lingual braces and MTM® Clear•Aligner?
A: The term "invisible braces" may be used to refer to either "clear braces" or "lingual braces". Clear braces are similar to regular wire braces except that the brackets are made of a clear material instead of metal. Lingual braces are placed behind the teeth so they are not easily visible. Both clear braces and lingual braces are attached to your teeth, and removable only by your orthodontist. MTM® Clear•Aligner is fully removable, making is easier to eat, brush and floss.
Q: How clear are the aligners?
A: The plastics used MTM® Clear•Aligner for are manufactured for "contact clarity", meaning they are almost invisible when applied to the teeth. MTM® Clear•Aligner uses only quality proprietary plastics, for a virtually undetectable solution for straightening teeth discreetly.
Q: Are the aligners comfortable?
A: MTM® Clear•Aligner is custom-fit to your individual needs. When you begin treatment, the aligner(s) may feel a little foreign in your mouth – but after a day or two, most people hardly notice them.
Q: How long do I have to wear the aligners each day?
A: As with other aligner treatments, for optimum results, you will need to keep your aligner(s) in your mouth at all times except when you are eating, drinking hot liquids, or brushing your teeth.
Q: How long does the MTM® Clear•Aligner treatment take?
A: Because MTM® Clear•Aligner treats cases requiring only minor anterior tooth movement, you can often achieve your desired outcome more quickly than with full orthodontic treatment, sometimes in as little as 3 to 6 months*. *Data on file.
Q: Will I have to wear a retainer after my treatment has concluded?
A: Yes. As with any orthodontic procedure, a retainer is essential to maintaining your new tooth alignment. There are several options for this. Your dental professional can explain them and help you choose the one that meets your needs.
Q: Is MTM® Clear•Aligner recommended for all age groups?
A: MTM® Clear•Aligner is recommended for patients who have all of their permanent teeth (all second molars), and are able to consistently adhere to the program's use and care requirements.
Q: How long has MTM® Clear•Aligner been around?
A: MTM® Clear•Aligner is based on a proprietary system developed by an orthodontist more than 10 years ago. Since then, dental professionals have been successfully treating patients using MTM® Clear•Aligner as an alternative to other clear aligner treatments and conventional wire braces.
Q: How does the price compare to other aligner treatments or clear braces?
A: Each case is different, so individual costs will vary. However, MTM® Clear•Aligner typically costs a fraction of other aligner options or full-mouth braces (both wire and clear). Your dental health professional can offer you a comparison of the alternatives that may be right for you.
Q: What are the aligners made of?
A: MTM® Clear•Aligner users plastic that does not contain PVC or BPA.
Q: Are there any health benefits associated with MTM® Clear•Aligner treatment?
A: MTM® Clear•Aligner can in many cases contribute to better oral hygiene, helping your teeth and gums to stay healthy. Improperly aligned teeth can make cleaning and brushing more difficult and lead to tooth decay, gum disease and possibly tooth loss.